The aim was to set up impromptu pop-up performance spaces across the city for the duration of the COP. But once we were in Glasgow, we realised – with demonstrations and protests happening across the city, much of central Glasgow had become a performance space
Nevertheless, we set up in more than a dozen and provided space for musicians, poets, dancers, actors, puppets, activists and most importantly – indigenous people
A delegation of more than 140 indigenous people came to COP
They were the most important people at the summit. And yet they were not treated as such
They did not get a seat around the decision-making tables
As Maori climate activist told delegates on the first day of COP
"This is an invitation to you

Learn our histories

Listen to our stories

Honour our knowledge

Get in line or get out of the way"
That invitation was not taken up by delegates at COP, but has been embraced outside the Blue Zone
This is a series of videos where indigenous people who came to COP speak in their voices
---
Pop-up theatres bring music, comedy and climate action to streets of Glasgow for COP
Performance spaces to appear in 20+ sites across the city over the COP26 Climate Summit
Visitors to central Glasgow in the first two weeks in November are likely to come across pop-up stages across the city where performers will be using music, comedy, poetry and spoken word to explore issues around climate change.
Pop-up performance stages will be appearing in squares, parks, bus shelters as well as places where delegates and activists are queuing for events, for the duration of the COP26 Climate Summit.
"These pop-up theatre spaces are a welcome addition to a summit which can at times resemble a stuffy trade fair with delegates haggling for hours over the deletion of a comma," said Dimitri Zenghelis, Cambridge University climate economist and COP veteran.
"They provide playful, accessible and thought-provoking creative spaces for the public and decision-makers to openly communicate and explore joint solutions to the climate crisis."
The spaces are part of the Glade Theatre, an innovative arts concept launched this summer with the aim of bringing live arts to the heart of communities. The idea involves stringing large "Theatre" banners from a tree or piece of street furniture and turning that area into a performance space.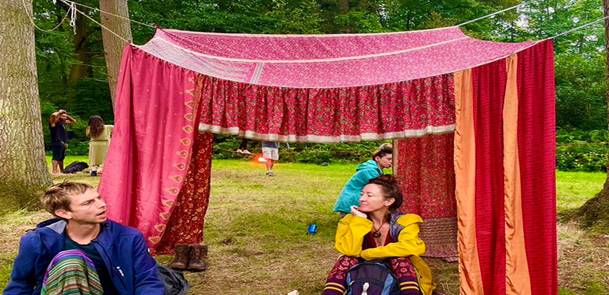 The team have a number of 10ft x 8ft fabric stages which can also be strung up and spotlights to ensure performances can continue into the evening. A fluid programme – much like a "open mic night" – allows anyone to perform, with a flip chart and pen allowing anyone to put their name down for a slot.
The team in Glasgow have identified more than twenty sites for the pop-up theatres which will be moving around the city for the duration of the climate summit.
Glade Theatres first appeared in parks around London this summer and evolved in response to the COVID-19 lockdown.
"As lockdown lifted, these theatres offered much needed outdoor spaces where people could share socially distanced connection, music and laughter," said Glade Theatre organiser, journalist Stefan Simanowitz.
"The climate summit provides the perfect backdrop for an initiative like this enabling activists, experts and members of the public to participate or watch impromptu performances in public spaces across the city."
"The beauty of the concept is that is accessible anyone and it is fully scalable. We encouraging anyone to set up a Glade Theatre of their own wherever they are."
For more information contact 07799 650791
Visit THE GLADE THEATRE www.gladetheatre.com
TWITTER @GladeTheatre / INSTAGRAM – @thegladetheatre
Those wanting to set up their own Glade Theatre, they can either make their own banner or order one for £30 alan@adelphigraphics.com
Fabric theatres are also available at cost price
PROGRAMME: A full list of impromptu venues and events will be available online. The programmes will be flexible, last minute and subject to change.
---
Background
The brainchild of journalist, Stefan Simanowitz, the concept first took shape this summer after he was caught in shower on Hampstead Heath with his 3-year-old godson.
"The two of us took shelter beneath some trees and to the pass the time I did a rendition of Singing in the Rain," Simanowitz explains. "When I'd finished, my godson made me swap places with him, sitting me down on the bench whilst he performed his own song. That magical moment planted the seed of the idea."

Stefan Simanowitz
Over the summer, Simanowitz returned regularly to this spot on & to other leafy glades around the Heath and beyond. He enlisted the help of friends and passers-by who came to perform or just be part of the audience.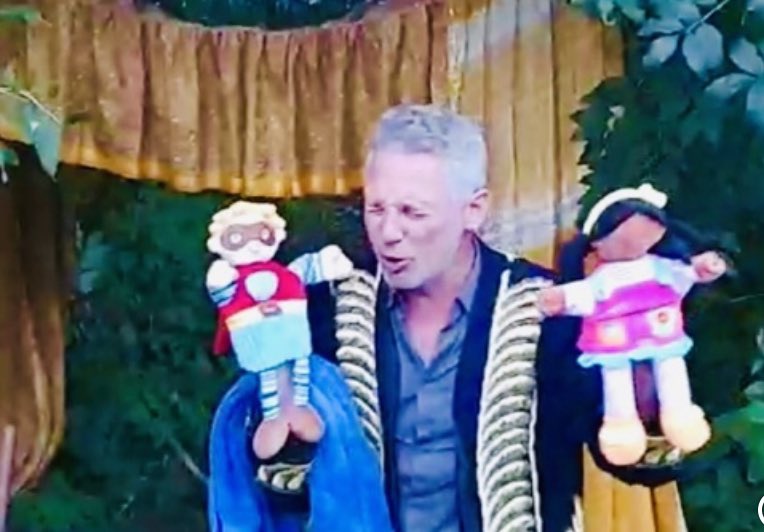 The intention is for the theatres to spread, with people across the UK and beyond setting up their own impromptu theatres. Banners can be ordered and purchased for just £30 and the fabric theatres are also available for cost price.
In August, a dance performance at a Glade Theatre event on Hampstead Heath prompted one audience member to recite the passage by Khalil Gibran:
"If there come the singers and the dancers and the flute players, buy of their gifts also. For they too are gatherers of fruit and frankincense, and that which they bring, though fashioned of dreams, is raiment and food for your soul.'"
To order a 3m x 2m banner (£30+ P&P) contact alan@adelphicgraphics.com
Videos
The #GladeTheatre https://twitter.com/StefSimanowitz/status/1434927405429309441
Music
Dancers
Poetry – Climate Justice
Poetry – Gibran Kahlil
Music https://twitter.com/GladeTheatre/status/1436614267197968384
Comedy
Singing dog https://twitter.com/GladeTheatre/status/1436615894520762370
Children's performances
Puppet show (children)